For most of the Western Church Advent Sunday is the start of the Chuch's liturgical new year.
So Happy New Year!
Below I share with you something Pro Multis Media sent to me by email today that in a succinct way gives a synthesis of the propers and lections for Advent Sunday in the Vetus Ordo:
Commentary for the Readings
in the Extraordinary Form
First Sunday of Advent
"There will be signs in the . . .(heavens). . .and upon the earth, distress of nations. . .they will see the Son of Man coming. . .lift up your heads, because your redemption is at hand" (Gospel).
On His second Advent at the end of the world Jesus will come in the fullness of Divine Power. Then will we be obliged to accept Him as King of Justice. So today let us begin to prepare for this year's anniversary of His first Advent as King of Mercy.
Because His coming is "nearer" we are warned to "rise from sleep,. . .lay aside the works of darkness. . .and put on he Lord Jesus Christ" (Epistle).
Aware of the dangers ahead during this preparation, we call upon His "power" to protect us (Prayer) and to "cleanse us" (Secret). Finally, we promise to "prepare with due reverence for the coming festival" (Postcommunion).
Excerpted from My Sunday Missal, Confraternity of the Precious Blood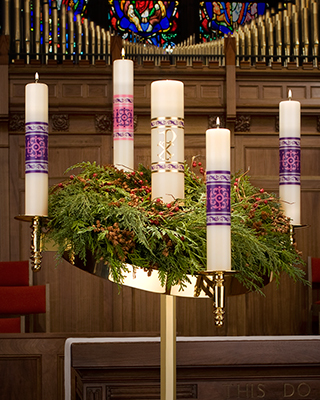 A Blessèd Advent to All
+