In The Book of Alternative Services of the Anglican Church of Canada the following is appointed to be said before the Ceremony of the Foot-Washing:
Fellow servants of our Lord Jesus Christ,
on the night before his death,
Jesus set an example for his disciples
by washing their feet,
an act of humble service.
He taught that strength and growth
in the life of the kingdom of God
come not by power, authority, or even miracle,
but by such lowly service.
Therefore, I invite you
(who have been appointed as representatives
of the congregation and)
who share in the royal priesthood of Christ,
to come forward,
that I may recall whose servant I am
by following the example of my Master.
But come remembering his admonition
that what will be done for you
is also to be done by you to others,
for "a servant
is not greater than his master,
nor is one who is sent
greater
than the one who sent him.
If you know these things,
blessed are you if you do them."
It is a very simple, straightforward, and elegant solution for providing a standardised introduction to the pedilavium rather than leaving it up to the skills of the presbyter or to the employment of a lengthy exhortation from another book in Prayer Book English. It is also very realistic in its ambitions as it is the right length for contemporary ears trained by sound bites and commercial advertising.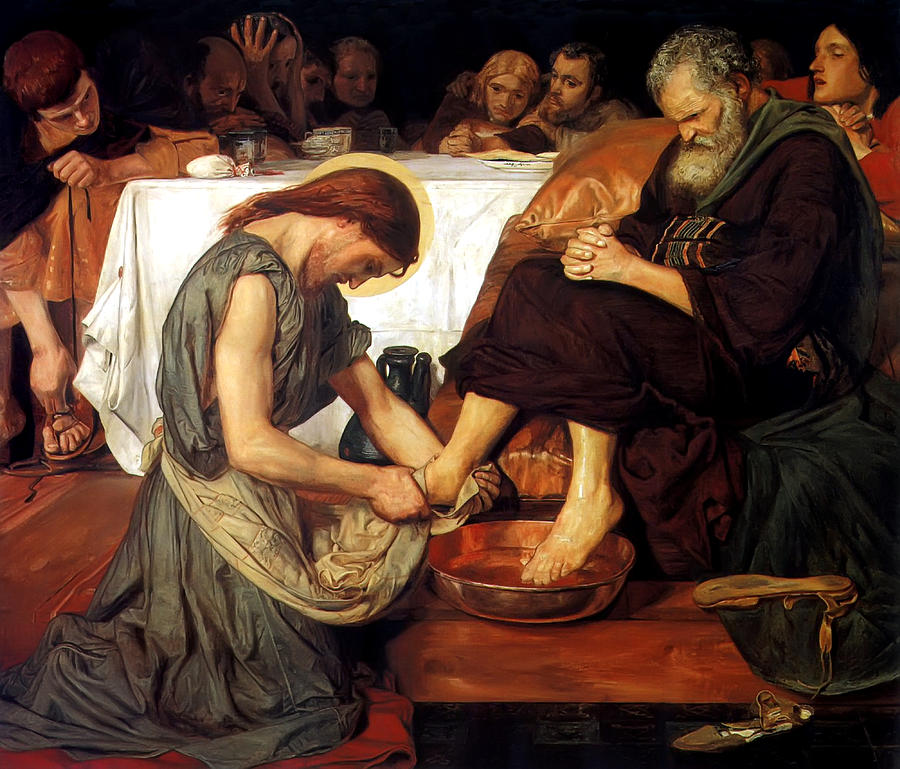 Jesus Washing Peter's Feet
Ford Madox Brown
At the beginning of the B.A.S. Maundy Thursday liturgy the Celebrant is directed to say the following introduction weaving together the themes and Scriptures of the day ... and these words also serve as a good word for contemplating the meaning of this day in Holy Week:
This is the day
that Christ the Lamb of God
gave himself into the hands
of those who would slay him.
This is the day
that Christ gathered with his disciples
in the upper room.
This is the day
that Christ took a towel
and washed the disciples' feet,
giving us an example
that we should do to others
as he has done to us.
This is the day
that Christ our God gave us this holy feast,
that we who eat this bread
and drink this cup
may here proclaim his Holy Sacrifice
and be partakers of his resurrection,
and at the last day
may reign with him in heaven.
+